Plesk for Windows
Plesk for Linux
kb: technical
Applicable to:
Plesk for Linux
Plesk for Windows
Symptoms
Custom IMAP folders were set in Plesk webmail or a different email client, but they are not displayed in Outlook.
Cause
The IMAP folder structure is not unified between different email clients.
Resolution
Solution 1: Disable the "Show only subscribed folders" option in Outlook
Go to FOLDER > IMAP Folders menu:

Uncheck the option "When displaying hierarchy in Outlook, show only the subscribed folders."

Press Send/Receive button to refresh the folder structure.
Solution 2: Change the "Root folder" path in Outlook
Go to File > Account Settings > Account settings > select the affected IMAP account > Change... > More Options... > Advanced

Set Root folder path to Inbox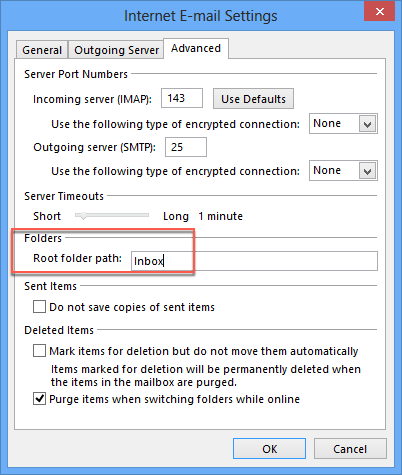 Press Send/Receive button to refresh the folder structure